Home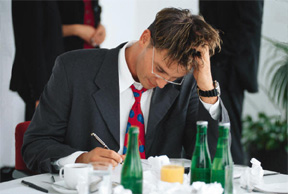 Can you afford to take the chance that a simple grammar error will ruin your presentation, your important report or your proposal?
Can you afford to take the chance that what you want to say in your writing is not what you have actually said?
Do you want to speak to those not familiar with your industry's technical jargon but know no other way to write?
If you need help with words -- writing words, editing words, designing words--WordQueen can help. We're fast, we're accurate, and we treat your project as though it were our own. If you look good, we look good.
We edit all kinds of writing --business forms, letters, reports, press releases, presentations, newsletters, ad copy, brochures and proposals; academic and medical writing, fiction and non-fiction manuscripts, resumes and cover letters. One unique specialty is our ability to translate technical jargon into writing comprehensible for lay people.
We also provide writing services. We can write your business reports, marketing and brochure copy, proposals, press releases, letters, newsletter articles, web content and similar projects. (Sorry, we do not write student papers or application essays.)
We can also design your newsletters and brochures using desktop publishing. We've even been known to do a catalog or two.
What We Do
Editing and Writing
Business forms, letters, reports, presentations, proposals
Newsletters
Ad copy
Academic (journal) and medical writing
Fiction and non-fiction manuscripts
Resumes and cover letters
Ghostwriting
Speechwriting
Press Releases
Design
Brochures
Forms
Newsletters
Ads
What We Don't Do
We don't write school papers or school application essays. Sorry--that's not what we do. .